Updated: 05 December 2008 Friday.
Click here to go to PHYS-1060 Link Salad page.
From Topic 1 Handout: 11. Papers will be accepted during the last week of class, December 1-5, 2008.
This means papers can be turned in at the end of class on Tuesday or Thursday. Or to the Physics Dept. Office, 1st floor Everett Tower anytime. Or to Dr. Phil in his office if he is there. DO NOT PUT PAPERS UNDER MY OFFICE DOOR OR ATTACH TO DOOR OR BULLETIN BOARD>
Week of December 1-5, 2008.
Tuesday 12/02: In Link Salad: NGC1532 is consuming NGC1531. While the structure of the smaller galaxy is destroyed, the stars making up the smaller galaxy are pulled into the larger galaxy -- if they come in at an angle they will join the halo or the bulge, not the disk. The Sun orbits the Galactic Center at v = 220 km/sec = 800,000 km/hr. The orbital period is T = 230,000,000 years, or about four times around every billion years. Given the age of the Sun, it's on its 20-something-th trip around the Milky Way. Disk stars like our Sun bob up and down as they orbit – this gives the galactic disk its thickness. Gravity from the disk pulls stars above the disk down. But the gas in the disk is too thin to stop the stars, so they plow on through until gravity pulls them back up and the cycle repeats. Note that halo and bulge stars which have more eccentric orbits which pass through the disk -- there is so much empty space between stars that there is not much threat that a halo star would hit a disk star. Star-Gas-Star Recycling: Hot gas erupting from the disk can condense in the halo and rain back down (or up) on the disk. Atomic hydrogen H (21cm band) – Molecular hydrogen H2 (hard to see) – Other molecules: H2O (water) CO (carbon monoxide) NH3 (amonia) C2H5OH (ethyl alcohol). Dr. Phil's grad school officemate, Dr. David E. Woon, runs a website on astrochemistry. It takes the whole E-M spectrum to observe the whole Star-Gas-Star cycle: Radio to gamma rays. Population I Stars Disk stars, ~ 2% heavy elements, Old and new stars. Population II Stars Halo and Bulge stars, ~ 0.02% heavy elements, Old stars (metal poor) and small. Lack of gas in the halo means no new star formation regions there. Protogalactic clouds The galaxies have to form from something and the matter from the earliest universe condensed into these protogalactic clouds. Three Types of Galaxies Spiral Galaxies (regular and barred) as previously described, Elliptical Galaxies are redder, more rounded – spheroidal galaxies includes the largest galaxies – (old stars results of collisions?), Irregular Galaxies are neither spiral nor elliptical. Example of a ring galaxy. Why would Ellipticals be redder? Because they're older, so no bright blue stars. Quiz 9 Take-Home quiz, handed out Tuesday 2 December 2008, due Thursday 4 December 2008. (Click here for a copy.) (Link Salad page here.)
Thursday 12/04: X3 returned. (Click here for a solution.) Groups: Spiral galaxies mainly in loose collections up to a dozen members. Clusters: Elliptical galaxies mainly found in clusters of hundreds or thousands of members • half the objects in central regions of clusters are ellipticals • but only 15% of large galaxies outside of clusters are ellipticals. Distances by Standard Candles: Can't use Parallax (nearest stars) or Radar Ranging (solar system) to find distances to galaxies. Inherent problems with any Standard Candle, whether comparing to known star types (such as as our own G2 star) or other bright objects, because there are variations or they may become too faint to see. (Trying to spot G2 stars in distant galaxies can't be done. Earlier measurements could only use Cepheid Variables out so far as well.) Main Sequence Fitting. Cepheid Variable Stars • Period-Luminosity Relation. The HST measuring out to 100,000,000 LY with Cepheids. But most distant galaxies are measured by Redshift vs. Distance. Hubble's Law v = H0 × d . Expanding Universe – Everything expanding means everything is pretty much moving away from us, NOT that we are at the center of the universe. Expanding "raisin cake" model. Age of the Universe is 1/ H0 ~ 14 billion years. We talk about Lookback Time to answer the question of "When did an event occur?" when we are dealing with events which took a long time for the information to get here and the object in question is either moving or space is expanding. Easiest to say, "It occured 400,000 LY away.", treating the distance as a time. Redshift Significance: Are distant galaxies really moving at near c ? Or is Space merely expanding and carrying distant galaxies along for the ride? Most Galaxies are the same age ~ 13 billion years. As pointed out before, we cannot observe one star or one galaxy over its lifetime – instead we compare similar galaxies at different Lookback Times. Galaxies formed by 2 billion years from start of the Universe. Protogalactic Clouds. Spin and Density. Starburst Galaxies: Extremely rapid star formation which xhausts gas supply so no disk forms. Quasars (Quasi-Stellar Objects) Output massive amounts of energy (more than entire energy output of Milky Way) Very distant / early / old (halfway to cosmological horizon). Powered by Massive Black Holes with giant accretion disks. Fusion converts ~1% of mass to energy. But fall into a black hole – 10-40% of mass to energy. Supermassive Black Holes and Galaxy Formation. Central Black Holes have about 1/500th mass of central bulge mass. Holds true for small spirals (bulge = 108 Msun) to giant ellipticals (bulge = 1011 Msun). Dark Matter Ordinary Dark Matter, MACHOs, Extraordinary Dark Matter. The Sloan Great Wall of Galaxies is the largest structure in the Universe (versus Voids). Expansion of the Universe. Finish up the day with the course & teacher evaluations for the semester. Sample Final Exam questions (mainly on new material). (Click here for a copy.)
READING ASSIGNMENTS
Unit 4 Galaxies & Cosmology
Reading Assignment:  
Chapter 14 (14.1, 14.2: skim to p. 391, then read 
pp. 392-394, and 14.3), 
Chapter 15 (15.1, 15.2, 15.3), 
Chapter 16 (16.1, 16.2 through p. 443 and then 
skim rest of this section, plus 16.3), 
Chapter 17 (17.1, 17.2 and 17.4). 
NOTE: THE WORD "SKIM" DOES NOT MEAN "SKIP". 
A nice summary of the evolution of structure in 
the universe is provided on pp. 492-493. These 
readings constitute Unit 4 and you are responsible 
for this material plus what we cover in lecture. 
Roughly 45 questions on the Final exam will cover Unit 4.


Unit 3 Stars: How They Work and Their Life Stories 
Reading Assignment:  
Chapter 10 (all of sections 10.1 and 10.2), 
Chapter 11 (11.2 - review all, but especially the 
discussions of "Masses of Main-Sequence stars" and 
"Stellar Lifespans"), 
Chapter 12 (all except "How are the lives of stars 
with close companions different?" in 12.4), Table 
14.1 on p.390 (in connection to the discussion of 
star formation in 12.1), 
Section 11.3 of Chapter 11, and 
Chapter 13 (13.1 up to the top of p. 357, 13.2 - 
just "What is a neutron star?", and 13.3 to the 
middle of p. 365).  Finally, pp. 346-347 and 376-377 
provide some excellent summaries on the workings 
and evolution of stars. These readings constitute 
Unit 3 and you are responsible for this material 
plus what we cover in lecture.

Unit 2 Light, Matter, and the Observed Properties of Stars 
Reading Assignment: review the subsection "Thermal Energy" 
on pp. 91-92 in Chapter 4, 
Chapter 5 (section 5.1 beginning with "What is Matter?", 
and section 5.2; pp.122-123 provide a nice summary of how 
we interpret light spectra), 
page 142 ("The Sun" in Chapter 6), 
Chapter 10 (in 10.1: "What's the Sun's structure" up to and 
including "The Sun's Atmosphere" on pp. 281-282, and 
section 10.3: "The Sun-Earth Connection" up to and including 
"The Sunspot Cycle" on pp. 293-294), and 
Chapter 11 (sections 11.1 and 11.2 only). These readings 
constitute Unit 2 and you are responsible for this material 
plus what we cover in lecture.


Unit 1 Introduction and Tools of Astronomy Reading Assignment:  
Become familiar with the existence of Appendices A (a list of 
physical and astronomical constants) and B (a summary of many 
of the equations used in text). If you think your math skills 
and metric units knowledge might be rusty, then definitely read 
Appendix C (math and units review - especially C.5 Finding a 
Ratio). 
Chapter 1 (all - it introduces the key concepts of the 
   "astronomical unit" and "light year", describes our place in 
   cosmic space and time, and paints a broad overview of what's 
   to come); 
Chapter 2 (just two small sections: Section 2.1 through 
   "Constellations", and "Angular Sizes and Distances"); the 
   short discussion of "The Magnitude System" on pp. 304-305; 
Chapter 3 (3.1 to middle of p. 56, then section 3.4, and finally 
   section 3.3 with special emphasis on "Kepler's Laws" of 
   planetary motion); 
Chapter 4 (through "Escape Velocity" on pp. 97-98); Figure 6.26 
   on p.170 (and the accompanying text), and 
Chapter 5 (section 5.1 through "The Many Forms of Light", and 
   section 5.3). These readings constitute Unit 1 and you are 
   responsible for this material plus what we cover in lecture.
 
---
Week of September 1-5, 2008.
Monday 9/1: Labor Day <No Classes>
Tuesday 9/2: Class begins. To some extent this is a course in The Two Hubbles: (1) The Man and (2) The Telescope. In 1925 Edwin Hubble realized that the Milky Way wasn't the entire universe, but just a spiral galaxy inside a vastly larger universe. To see light, we need dark. Realization: The stars are ALWAYS there, even in the daytime -- we just can't see any but the one star until it is dark. Putting the Hubble Space Telescope in space so it is above the atmosphere and (pointing away from the Earth, Moon and Sun) where it is always dark. Dr. Phil's conference presentation on "The Moons of Mercury", based on a science fiction short story. (Mercury has no moons, but if there were small moons, could we see them from Earth? Essentially same problem as seeing Neil Armstrong's footsteps on the Moon from Earth. Not possible with today's technology.)
Thursday 9/4: Why is the sky blue? Why is the (night) sky black? These are basic questions that go to the heart of observing stars in the sky. So... Why is the sky blue? It has to do with (a) the composition of the Earth's atmosphere, (b) the composition of the light from our Sun and (c) what we see in "normal human vision." Blue light is scattered in the atmosphere more, so as the sun shines we see blue coming seemingly from everywhere. But more than that, removing blue from visible sunlight, the ROYGBIV spectrum (red-orange-yellow-green-blue-indigo-violet) makes the sunlight more red. And as the sun is lower on the horizon, the sunlight has to travel through more of the atmosphere, making sunrises and sunsets much redder. (The rising and setting of the Moon are more red-orange than when the Moon is high overhead. Check out the very dramatic rising harvest moons in mid-September and mid-October.) Rather than give you a link about this, I suggest you try using Google with the search term "why is the sky blue" and look at some of the sites -- Wikipedia alone can give you some information, but its answers may be too technical. Now... Why is the night sky black? Today when you go outside in the middle of the night, you may have trouble seeing much. Indoor lighting, outdoor lighting, air pollution, etc. all work against you. For that ancient sheepherder walking out in the middle of the night to check on his flock, the overhead night sky would've been spectacular. With good human vision, you can see a couple thousand stars. The brightness of a star as we see it depends on (1) the star itself and (2) how far away it is. Galileo, with the first telescope, showed there were MORE stars than you could see. These leads to the idea that if the universe were infinite and stars evenly distributed, that everywhere you'd look, there'd be a star. But there'd be more distant, dimmer stars and the number and distance effects will cancel each other out... so if the universe were infinite and uniform, the night sky would be... white? It isn't, because the universe has an edge and the stars are clumped together in galaxies, not evenly distributed throughout the universe. Much more on this later! DVD: Charles and Ray Eames' short film The Powers of Ten. Distribute Syllabus. Q1 and your PID number. (If you missed class on this day, check with Dr. Phil sometime soon.) Show this website and the UNIT 1 READING ASSIGNMENTS (below) -- the Reading Assignments cover several weeks of class, so for next Tuesday, you should've read Chapter 1 and looked over Appendices A, B and C. (Note: Topic 1 will not be assigned until Tuesday.)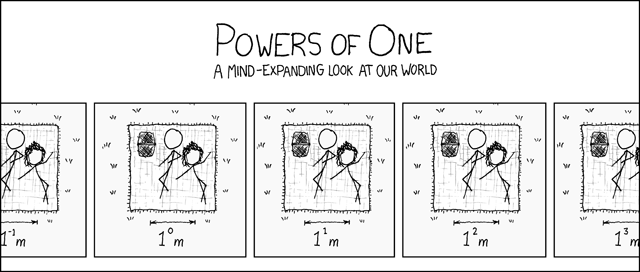 XKCD comic -- The Powers of One
Week of September 8-12, 2008.
Tuesday 9/9: Show class webpages and new PHYS-1060 "Link Salad" page. Chapter 1 is about the size of the universe. Last time we looked at The Powers of 10 movie to show something of the scale of the largest and smallest in the universe. Today we looked at some numbers from 1 to 100,000,000,000. Though our socety throws numbers like million or billion all the time, we have real problems thinking about the SCALE of these numbers. For example, there are 60 seconds in a minute and 60 minutes in an hour -- so there are 3600 seconds in an hour and 86,400 seconds in a day. 1,000,000 seconds ÷ 86,400 seconds/day = 11.57 days (11 days 13 hours 46 minutes 40 seconds). But a billion seconds? 1,000,000,000 seconds ÷ 86,400 seconds/day = 11,574.07 days (31 years 251 days 7 hours 46 minutes 40 seconds). NOTE: In lecture I misremembered numbers off the top of my head, rather than use a calculator and figure it out -- which should be a good object lesson. (grin) Turning to our Link Salad, we look at a rising moon (it is reddened due to scattering away of the blue light, just like a sunrise/sunset), the Astronomy Photo of the Day (APOD) site and . Finally we looked at the Hubble Deep Field and Ultra Deep Field images -- where the Hubble Space Telescope (HST) stares at a seemingly blank piece of sky for 11 days and 3 months respectively. Yet the Deep Fields reveal a sky filled not with individual stars, but a deep sky where every object is yet another galaxy. The Milky Way -- our galaxy -- has some 100 billion stars. But if the universe is BIG and things like stars and galaxies are far away, how do we know they are far away? Both photographs and the star covered celestial sphere we see when we look up in the night sky don't really reveal the third dimension -- depth or distance. However, we can borrow a trick from our own normal human vision. With two eyes, not only do we adjust the focus for distance, we also rotate the eyes so that both are looking at the same thing. The closer the object, the more the eyes have to move, the further the object, the more they point straight ahead. The problem with our eyes is that they are only a few inches apart. Military rangefinders allow artillery officers to find the distance much further out by spreading out the two optical parts by a larger distance. Parallax demo: Hold out an index finger at arm's length, sight through left eye only and line up with mark on blackboard. Now switch to right eye -- the finger appears to move. The amount of apparent movement depends on how far the finger is and how far the blackboard is from your eyes. We can do something similar with taking two pictures with a telescope from opposite sides of the Earth's orbit around the Sun, thus providing a base along the lines of 2 × 93,000,000 miles! For galaxies we take advantage of the Doppler Shift -- more on that later. Example of Amtrak train blowing horn for grade crossings -- as train approaches the pitch is higher (blue shift), and as the train goes away the pitch is lower (red shift), compared to the pitch if you are traveling with the horn. We have ways of correlating red shift with distance -- and time. And it turns out the Hubble can do parallax measurements even on distance objects.
Thursday 9/11: News: The Large Hadron Collider (LHC) at CERN on the Swiss-French border is online -- and the world hasn't ended yet. Too many people with too little Physics are worried about this. Bad Astronomy Blog (BAD) reports a gamma-ray burst... fortunately very far away. Link Salad includes stuff on the spectrum (visible light colors) of the Sun. And more about the Dopler Shift. Do check out the links and listen to the Dopler Shift song. Also a discussion on Rangefinders, which applies to Tuesday's discussion on Parallax. Q&A: Does everything in the sky glow? Everything we see in the sky either shines (like stars) or reflects some light (Earth, planets, etc.) At times you can see a rising or setting Moon which is brightly lit by reflections of sunlight and dimly lit by reflections of Earthshine (sunlight reflected from the Earth). Of interest to us later in the course will be dark matter, which we suspect to make up a lot of mass in the universe, but we cannot see because it is... dark. Our changing neighborhood. APOD: The Closest Galaxy to the Milky Way is now listed as Canis Major Dwarf -- it is hard sometimes to see what is in our neighborhood from inside the Milky Way galaxy, where it might be easy if we were looking at another galaxy from the outside. An analogy -- Mount Everest is the highest mountain on Earth. Well, it alternated with K2 (Mount Aston-Godwin) for a while. And it depends on how you define "highest mountain" -- in this case highest about sea level. Other mountains in South America are "further from the center of the Earth", due to the Earth not being truly spherical, the Hawaiian Islands are pretty tall from the bottom of the ocean, etc. APOD: "The Milky Road" -- another view of the Milky Way, looking south towards Sagitarius and the center of the galaxy. "... the glowing celestial band is due to the collective light of myriad stars along the plane of our galaxy, too faint to be distinguished individually. The diffuse starlight is cut by dark swaths of obscuring galactic dust clouds. At the beginning of the 17th century, Galileo turned his telescope on the Milky Way and announced it to be composed of innumerable stars." Mainly what Chapter 1 is trying to do is impress on you the size of the universe. The Voyage model of the Solar System is scaled down so you can walk it (a similar scale model of the Solar System is near downtown Lansing). The Voyager spacecraft is leaving our Solar System. The nearest star is 4.4 light years away -- a light year is how far light travels in a year -- light travels at 186,000 miles per second or 300,000,000 meters/sec. Reading Assignment -- section on Chapter 2. Quiz 2 is a Take-Home quiz/workshop, handed out Thursday 11 September 2008 and due Thursday 18 September 2008.
Week of September 15-19, 2008.
Tuesday 9/16: In The Sky: September's Harvest Moon -- full moon coming up orange. Unfortunately, Monday night it was cloudy in the east at Dr. Phil's house, so no picture. Today's harvest of APOD pictures: We talked about Mt. Everest as the tallest mountain on the Earth, as measured from sea level -- here's a panoramic view of what you would see from the top of Mt. Everest on a really pretty day. Eclipses: Solar eclipses occur when the New Moon actually passes in front of the Sun. A total solar eclipse blocks the bright disk of the Sun complete -- the apparent size of the Moon is roughly equivalent to the apparent size of the Sun. An annular eclipse occurs when the Moon is a little further away and does not completely cover the Sun, leaving a bright ring. Eventually, all solar eclipses will become annual, as the Moon slowly moves away from the Earth. Lunar eclipses occur when the Full Moon passes into the Earth's shadow. Since the Earth is bigger than the Moon, the Earth has a bigger shadow and it is more likely the Moon will pass into the Earth's shadow, so we get more lunar eclipses than solar eclipses. As long as you can see the full moon in your sky, everyone sees the same lunar eclipse. However, to see a solar eclipse depends on you standing on the Earth in the Moon's shadow, so everyone sees a different solar eclipse. (Or none at all.) The supernova remnant ribbon from the 1006AD supernova in the Wolf constellation. Note: the star itself is 7000 LY away, 1002 years ago is when the light from the supernova explosion reached the Earth -- and it was bright for two years. Now after a millennium, the debris cloud has expanded to being 60 LY across -- and this ribbon is one piece of the expanding cloud. Any view of a black hole showing a big swirly thing is an artist's conception. We can detect black holes and black hole candidates by the light that is emitted as things fall in, but the black hole itself can't be seen from Earth. Galaxies on a string shows two galaxies that have passed by each other or the big one is devouring the smaller -- the "string" is a ribbon of gasses and even stars being pulled into the larger galaxy. We classify or categorize objects in the sky by Size, Brightness, Color, Place, Association, Orientation, etc. Need to differentiate between "Apparant" values of these classifications and their "True" values. "Apparant", because our observations are based on what we can see from the Earth. Stars linked in our view of the sky, may not be close to each other in real life. As you move away from Earth, the arrangement and order of the stars will change, as well as their visibility, so if you were on another planet around another star, you would not necessarily see the same constellations as we do today. Also, our view of the stars is a snapshot in time. As the stars move, their place in our sky changes. Not everyone sees the same thing. "Normal human vision" can see 6 stars in the Pleiades (The Seven Sisters), but someone with 20:15 vision might see seven. 88 Constellations by international agreement. Some groupings of stars that we take as constellations are in fact considered to be an asterism and are subsets of one of the listed constellations. Again, note that just because a group of stars are associated with a constellation, doesn't mean that the stars are anywhere near each other. If you travel to another star, the stars will be seen from a different direction and the constellations will change or disappear -- and new constellations could become important. We use the constellations of the brighter stars as a way of orienting ourselves around the sky. But always keep in mind the third dimension -- distance -- as we look into the sky. We often discuss viewing angles. Note that the circle has 360°, 1° = 60' (60 minutes of arc or arcminutes), 1' = 60" (60 seconds of arc or arcseconds), so 360° = 1,296,000". For two objects to have the same viewing angle, the object twice as far has to have twice the radius (and four times the area and eight times the volume). Apparent Magnitude (as seen from Earth), Absolute Magnitude (as seen from a Standard Distance = 10 parsecs = 32.6 LY). Old form: Hipparchus looked at the visible stars and ranked them first class (brightest) through sixth class (dimmest) stars. New form: visible stars are magnitude 6 and brighter. Most stars in the galaxy are small dim ones, which we mostly don't see (less than apparent magnitude 6). Magnitude is a logarithmic scale, but not like a simple exponent of a power of ten. A difference of 1 magnitude is a brightness difference of 2.512:1, a difference of 5 magnitudes is a brightness difference of 100:1. Note: magnitudes can be 0 or negative. Sirius has an apparent magnitude of -1.46, the Full Moon is -12.6 and the Sun has an apparent magnitude of -26.73, though it has an absolute magnitude of only 4.8, making it a very average dim star
Reading Assignment -- section on Chapter 3.
Thursday 9/18: (NOTE: Projector in 1104 Rood not working. Check PHYS-1060 Link Salad to see what we were talking about.) Models of the Universe eventually became Models of the Solar System as we began to understand just how big the Universe is. Early Man would certainly have felt as if the Earth was the Center of the Universe (geocentric). But the Sun is very bright and powerful, and it is also possible to construct models where the Sun is the Center of the Universe (heliocentric). One could also suggest which objects in the sky were nearer and which were farther. The BIG stumbling block was that some of the planets, most especially Mars, exhibited this bizarre retrograde motion, whereby the seem over the course of some nights to slow down, stop, turn around, go backwards against the fixed stars, then resume the normal progress through the stars. The Greeks weren't nearly as dumb as some modern textbooks make them out to be. Pythagoras (he of the right triangle and the Pythagorean Theorem, a² + b² = c²) and Aristotle both were able to show that the Earth was round and not flat. Aristarchus argued for a heliocentric model around 400 B.C. On the one hand, it roughly predicted the retrograde motion of Mars. But it also suggested stellar parallex, which turns out to be too small for the Greeks to have measured. It was Ptolemy in the early The real problem with the models was that the Greeks and their intellectual descendents were very fond of the perfect geometric shapes and solids. So orbits which are perfect circles are to be preferred, especially as one ascends into the more perfect heavens. Often the major solar system models are broken into 3 categories: Ptolemy (geocentric), Copernicus (heliocentric) and Kepler (heliocentric with ellipitical orbits). But there are more systems, and each offered some improvements. (Aristarchus, Aristotle, Ptolemy, Copernicus and Kepler.) Ptolemy versus Copernicus -- geocentric versus heliocentric. The concept of elegance and beauty in scientific theories. Perfectly circular orbits (needing epicycles) versus elliptical orbits. William of Occaam, 14th century. Occaam's Razor: "It is vain to ask Nature to do with more, that which can be done with less." (Used by engineers as the KISS Principle -- Keep It Simple, Stupid.) Just as the heliocentric model replaces the geocentric model, ellipses supplant the circles & epicycles. Now we have one continuous curve at work and all the planetary orbits are treated the same. Tycho Brahe's astronomical observations and data, Kepler making it work. Kepler's Three Laws of Orbits: (1) All planetary orbits are ellipses with the Sun at one focus. (2) Equal Area Rule -- The time it takes to sweep out an arc length 1 that subtends an area 1, is the same time as another arc length 2 that subtends an area 2 = area 1. This tells us that when planets are closer to the Sun, they are faster (fastest at perihelion) and when they are farther way, they are slower (slowest at aphelion). (3) The Period Rule. p² = a³.For the orbits about any given body, the square of the period (p, in years) is proportional to the cube of the radius (use the semi-major axis as an average radius a in AU). Quiz 3 is a Take-Home quiz/workshop, handed out Thursday 18 September 2008 and due Tuesday 23 September 2008. (Click here for a copy.)
Reading Assignment -- sections on Chapter 4 and 5 for next week.
Week of September 22-26, 2008.
Tuesday 9/23: Go over absolute and apparent magnitude again. Fall arrived at the autumnal equinox at 11:44am on Monday. Do not believe the silliness about being able to balance eggs on their ends only on certain days, like the equinox. You want to balance an egg on its end? Sprinkle a few grains of salt on the table first and the tiny cubic crystals will keep the egg from rolling over. The sun follows a path 23½° to the equator called the Ecliptic, which is responsible for the seasons. Or to put it another way, the Earth is tilted 23½° to the Sun. When the northern hemisphere is tilted towards the sun, it is summer; when tilted away, it is winter. The angle of the Ecliptic to the horizon, at sunrise in the East and sunset in the West. Latitude (angle north or south of equator). Equator is 0°. Topic of Cancer and Tropic of Capricorn are ±23½° from the Equator. Arctic Circle and Antarctic Circle show lands with 24-hour sun in summer and 24-hour dark in winter. Most orbits are not truly circular, but elliptical. A circle is a special case of an ellipse with a constant radius. An ellipse is an elongated circle with a major axis and a minor axis. From the center, we can measure the "Semi-Major Axis" and the "Semi-Minor Axis". For something in orbit about the Earth, the distance of closest approach is perigee. The distance of furtherest approach is apogee. (For orbits around the Sun, these are perhelion and aphelion respectively.) Other new pictures, include a star similar to our sun about 500 LY away, with a larger-than-Jupiter planet. Also colliding clusters of galaxies. Stationary: the fixed stars, constellations, etc., all look like they are not moving. You think you are sitting here and not moving. But everything in the Universe is moving, which brings us to... Motion: Position, Speed, Direction, Acceleration. Mass is a measure of how much "stuff" an object contains. Weight is mass under the influence of gravity. Momentum = mass × speed. To change momentum, we have to start talking about Forces -- and that means Newton. SI unit of mass = kilogram (kg). SI unit of force = Newton (N). English unit of force = pound (lb.). English unit of mass = slug (Divide pounds by 32.) Some stories about Sir Isaac Newton. Newton's Three Laws of Motion: Zeroeth Law - There is such a thing as mass. First Law - An object in motion tends to stay in motion, or an object at rest tends to stay at rest, unless acted upon by a net external force. Second Law - F=ma. Third Law - For every action, there is an equal and opposite reaction, acting on the other body. (Forces come in pairs, not apples.) Equal and opposite forces acting on the same object? Already covered under First Law. First Sample Exam 1 handed out. (Click here for a copy.)
Thursday 9/25: Our Sun is in a quiet period -- few or no sunspots recently. In 1998, lots of sunspots. We'll talk about sunspots later -- they're like blemishes on the surface of the Sun, larger than the Earth. A nice picture of the Pleiades and a link about Sir Isaac Newton. Scientific Thoughts: How Do We Know It Is So? Observation -- Hypothesis -- Theory -- Testing (Refinement). Most people don't use the word "theory" to mean what it means in science. As a result, many arguments about "theories" don't make any scientific sense. Most of the Forces we encounter are Contact Forces. But there are other forces which exhibit "Action at a Distance", such as Gravity. Newton's Universal Law of Gravity (or Newton's Law of Universal Gravity). Takes two masses -- there are two forces, according to Newton's Third Law. Inverse Square law ( 1 / r² ) Yet Again! (We've seen the visual area of an object shrink as 1 / r² and the light from a star drops off as 1 / r².) Double the distance – ¼th the force. Double one mass – twice the force. Near the surface of the Earth, an object thrown will also fall -- the arc will be a parabola. Go fast enough and the arc changes, as you go over the horizon -- no longer can assume the world is flat. (grin) In Earth orbit, you are moving so fast that as gravity pulls you down, you match the curve in the Earth. So being on the International Space Station, it's not really "zero gravity", it's Free Fall -- you literally fall around the Earth forever. If the speed starts out as zero -- you fall straight down. If the Earth wasn't moving, it would fall straight into the Sun. Kepler was right – Elliptical Orbits for Bound orbits. But Newton showed that there were two kinds of Unbound Orbits: parabolic and hyperbolic . These are grazing orbits which pass by the Sun and never come back. Physics talk about Energy -- the amount of effort to do Physics Work. Kinetic Energy – the energy of motion. Potential Energy – stored energy, such as a spring or tossing an object up (it slows down, stops, then falls back down regaining the KE it lost). Radiative Energy – the energy of light,which has no mass. Orbital Energy = KE + PE. Conservation Laws are when a Physics quantity, such as momentum or energy, doesn't change. Angular Momentum for objects which are spinning or going around something -- m × v × r. Example from Ice Skating – spinning (Conservation of angular momentum). Gravitational Encounters as a moving object passes a planet or star can (1) Change orbits or (2) pick up speed from the Slingshot effect. Escape Velocity – the speed at which gravity cannot bring you back. For Earth: 11,000 m/s or 25,000 mph. The Voyager 2 Probe has reached solar escape velocity – it is leaving the solar system and is not coming back. Second Sample Exam 1 handed out. (Click here for a copy.) NOTE: We've discussed some parts of Chapter 5 on Light , but will pick it up again after Exam 1, and then go into Unit 2.
Reading Assignment -- sections on Chapter 4 and 5 for this week.
Week of September 29-October 3, 2008.
Tuesday 9/30: Exam 1 (first 40-45 minutes of class). Pictures of the far side of the Moon: The lunar day, or time to rotate on its axis, is the same as the sidereal period, so we primarily see just one face of the Moon. (The fact that the Moon's orbit is not quite circular and is tilted, allows us to see about 59% of the Moon's surface over time.) The far side of the Moon was not seen until a Soviet spacecraft with a camera went past the Moon in 1959 and sent back pictures. This is NOT "the dark side of the Moon", because the far side of the Moon gets day and night from the Sun just the same as the near side. Cool "xkcd" webcomic of a log view of the universe -- includes some jokes for geeks, but actually quite informative. The Electromagnetic or E-M Spectrum. Many kinds of light. Visible light -- the classic ROYGBIV rainbow of colors. "Pure colors" from the spectrum, versus "apparent colors" from combinations of light absorbed and reflected from materials, resulting in colors not in the spectrum like brown, pink, gray, etc. Put ROYGBIV visible light in the middle. As one goes past red, the wavelengths get longer and the frequencies get lower. IR -- infrared light, which we feel as heat. When you hold your hand out in sunlight, it isn't the visible light that feels warm, it's the IR part of sunlight. Microwaves -- including the microwaves in your microwave oven, have a wavelength in the centimeter range.
Thursday 10/2: Is Light a particle? Or is light a wave? Wave-Particle Duality says that it's both, but it was a big fight between 19th century physicists before they understood this. For Repeating Waves, we have a Repeat Length (wavelength) and a Repeat Time (Period). Frequency = 1/Period. Wave speed = frequency × wavelength. As a wave, light has both a wavelength (lamda, the repeat distance) and a frequency (f, how often it repeats in a second). As a particle, light is called a photon. In either case, the speed of light in vacuum is c = 300,000,000 m/s. The energy of a single photon is E = h f (Energy = Planck's constant times frequency; Planck's constant is a fundamental constant of our universe.). The Electromagnetic Spectrum. Put ROYGBIV visible light in the middle. As one goes past red, the wavelengths get longer and the frequencies get lower. IR -- infrared light, which we feel as heat. When you hold your hand out in sunlight, it isn't the visible light that feels warm, it's the IR part of sunlight. Microwaves -- including the microwaves in your microwave oven, have a wavelength in the centimeter range. Radio waves -- wavelengths get longer, going into the meter range. Includes the frequencies used by AM and FM radio. TV currently uses two radio frequencies, one for the audio and one for the picture. There is currently a plan to change U.S. television over to a digital HDTV system in a few years, which uses higher frequency radio waves, leaving the old TV channels available for new police and fire department radios. Finally there is ELF -- Extremely Low Frequency, extremely long wavelength radiation. Developed by the U.S. Navy to communicate with submarines in the deep, ELF waves have a wavelength up to miles long. On the other hand, as one goes beyond violet, the wavelengths get shorter and the frequencies get higher. UV -- ultraviolet light, including UV-A and UV-B, the light that causes tanning and skin cancers. X-rays -- more penetrating radiation, useful to look inside things, but Superman's X-ray vision is impractical. Gamma-rays -- even more dangerous and penetrating radiation, photons are much more particle-like than wave-like. They come from nuclear reactions inside the nucleus of atoms. Opening discussion of telescopes, mirrors. News: Hubble Space Telescope repair mission delayed until at least February 2009 -- Hubble stopped transmitting data, so they need to figure out what's wrong and how to fix it. Quiz 4 is a Take-Home quiz, handed out Thursday 2 October 2008 and due Tuesday 7 October 2008. (Click here for a copy.)
Reading Assignment -- sections on Chapter 4 and 5 for next week.
Week of October 6-10, 2008.
Tuesday 10/7: News -- car-sized asteroid hits Earth! Actually this happens all the time, things this "small" burn up in our atmosphere. Picture of a Solar Prominence. Brief discussion of solar storms and potential effects on our technological infrastructure. See Dr. Phil's definition of Science Literacy in the syllabus. And the Hubble Heritage project of amazing photos from the HST. (NOTE for today's discussions which follow: All models of the atom are wrong in some respect -- we use them so as to have some way of discussing things.) Matter is made of up protons (positively charge), neutrons (neutral) and electrons (negative charge). The tiny electrons are attracted to the large protons and the equation for Electric Force looks like Newton's Law of Universal Gravity -- it is a 1/r² law which allows for stable orbits. It would be easy to consider the electron orbits to be like the planets orbiting the Sun... but not quite. However, like the planets in our solar system, the electron orbits get a lot bigger as you go further out -- I have an illustration which doesn't look like that, so we can include multiple orbits in on drawing. (grin) Like the Earth orbiting the Sun, the more massive proton is located in the nucleus at the center. But... protons are repelled by protons. Two protons won't coexist in one nucleus by themselves. This is where the neutron comes in -- protons will stick to neutrons, and so like Velcro has an A-type and a B-type, so we assemble the nucleus with both neutrons and protons. Without the neutron, the only element in the universe would be hydrogen. As for how Matter interacts with Light -- there are four mechanisms involved. (1) Emission, (2) Absorption, (3) Transmission and (4) Reflection/Scattering. The last two apply to large objects, such as a window or a table. The first two have to do with where light comes from and where it goes -- from the atoms. For an electron to move from one orbit to another, it must gain or lose energy, the difference in the energy is release as a photon with E = hf.. To go from a lower orbit to a higher orbit, the electron has to absorb a photon of E = hf. Think of it like the rows of seats in our lecture hall -- you can only sit in a seat and the seats only exist at a particular height and a particular distance from the front for each row. It is easier to drop down to the 1st row, and harder to climb back out. And now we have an explanation of the spectral lines which we had once described as "fingerprints for elements". Burn hydrogen and the light emitted, when run through a prism will split not into a rainbow, but individual lines of individual colors -- these are emission lines. Take white sunlight, shine it through a prism and look at the rainbow of colors under a microscope and you will see that individual lines of color are missing -- these are absoption lines caused by the hydrogen gas in the Sun's atmosphere removing those colors and moving their electrons to higher orbits or ionizing completely. Combine these "fingerprints" with the Doppler Shift, and that is how we know that distant stars and galaxies are moving towards us or away from us -- and how fast. It is how we have an understanding of the expansion of the universe. Finally, we have relationships between Temperature (T) and Energy (E), and Temperature and Light. Temperature is connected with the energy and motion of the atoms and molecules in a material. For a glowing object, such as a star, there are two important laws we will use: The Stefan-Boltzman law · more photons of all wavelengths than lower T (and new photons at higher energies/shorter wavelengths than from lower T). And Wein's law · higher T means higher average energy/shorter wavelengths. So a hotter star will be brighter than a cooler star of the same size. And a hotter star will have a higher average energy of the photons. Or put it another way -- cool our Sun and the UV light from the Sun will be reduced. Quiz 4 deadline extended to Thursday 9 October 2008. There are just two equations needed for Quiz 4: c = f × lamba, E = h f. You will need to consult the textbook or the links provided to determine the color of the visible photon in (b) or whether the photon in (a) is an X-ray or a gamma-ray.
Thurday 10/9: Webcomic xkcd looking at things smaller than us in a log view. Pretty reasonable when you consider that things going on in the smallest of things in the universe, atoms and the nucleus, influence events in the largest of things, stars and galaxies. Consipracy nuts and the recent Chinese spacewalk. (sigh) Four Fundamental Forces in Nature: Gravity, E & M, Weak Nuclear Force, Strong Nuclear Force. Gravity -- holds you on the planet, keeps the Earth in orbit around the Sun and the Sun in the Milky Way galaxy -- large structures. The Electric Force is far more powerful, except the Earth and the Sun have essentially the same number of protons and electrons, so has a total charge of zero. Instead, the Electric Force holds the electrons to the atoms and is the basis for chemical bonds. For a "fair fight" between Gravity and the Electric Force... The Hydrogen Atom: Gravity loses to Electric Force by a factor of 200 million dectillion (!!!). Our Sun's spectrum goes beyond the visible ROYGBIV into both the infrared and the ultraviolet. Need to talk about the relationship between Temperature & Heat. Heat = Energy. Two objects in thermal contact, exchange heat energy, Q. If net heat exchange is zero, the two objects are at the same temperature. Temperature Scales: °F, °C and K (Kelvins). We use the SI Metric system Kelvin scale in Physics because it doesn't allow for negative temperatures. Blackbody Radiation -- heated objects radiate a continous spectrum, but the peak wavelength or frequency, depends on the temperature. The Sun's spectrum closely resembles that of a blackbody with T = 5777 K. Main Sequence Stars: O B A F G K M ("Oh Be A Fine Guy, Kick Me") Our Sun is a G-type star (actually a G2 star). Little tiny red dwarfs like Proxima Centauri, too dim to see with the naked eye despite being the closest star at 4.2 LY, are M-types. So O-types end up really large and hot! Quiz 5 is a Take-Home quiz, handed out Thursday 9 October 2008 and due Tuesday 14 October 2008. (Click here for a copy.)
Reading Assigments -- page 142 in Chapter 6 for this week, sections in Chapter 10 for next week.
Week of October 13-17, 2008.
Tuesday 10/14: Return X1. See the curve in the In-Class Notes for Unit 2. Click here for a solution key. News: Aliens coming! (It's on the Internet, it must be true!) Asteroid burns up over Sudan. Another site you might like to visit: the Boston Globe's Big Picture. Currently looking at the Sun. Finally, we look at a picture of Saturn's South Pole. We have never flown a spacecraft over Saturn's South Pole, so images taken from the sides have been computer processed so we can "rotate" the view and see what Saturn's South Pole should look like. This brings up a philosophical issue -- we use "false colors" in science to see images in wavelengths of light we cannot see (IR or UV, etc.), we can use computers to enhance or manipulate images, or in the case of Saturn's South Pole, stich multiple pictures together and manipulate them. There is always a risk that such manipulations and enhancements can either lose or distort information, or add artificacts -- things which are not really there. But this is different than someone doing PhotoShop for fun, where the goal is to show a "stretch limosine" horse, or that Brad and Angelina have a green alien baby. NOTE: A Minor Issue arose regarding Quiz 5 part (a): Brightness – Amount of Light, Intensity – Light/Area, Luminosity – the rate at which energy of all types is radiated by a star in all directions. A star's luminosity varies approximately as the square of its radius and the fourth power of its absolute surface temperature. (I probably should've labeled the graphs Brightness, not Intensity). More Definitions: Atom – a neutral object with equal numbers of electrons and protons. Ion – a charged atomic system with either extra electrons (negative ion) or missing electrons (positive ion). Element – atoms with the same number of protons (Z = atomic number). Isotope – same element, but different number of neutrons (N) (atomic mass A ~ Z + N). Our Solar System is a Second Generation star system -- otherwise there'd only be hydrogen. Death throes of some large stars throws off higher elements. There are just over a hundred elements (92 naturally occuring ones, the rest made only in a laboratory), but there are thousands of isotopes. Hydrogen doesn't need any neutrons in the nucleus to stabilize itself, because it only has one proton, but you can add one or two neutrons. These isotopes are somewhat special and we sometimes assign them symbols in chemistry as if they were elements: H (Z=1, N=0) regular old hydrogen, doesn't need a neutron to stabilize the nucleus. The most common material in the universe. D (Z=1, N=1) heavy hydrogen, has one neutron, also called deuterium. Stable, but uncommon. Twice the mass of regular hydrogen, but still has same chemistry. Heavy water is D2O, not H2O. T (Z=1, N=2) super-heavy hydrogen, has two neutrons, also called tritium. Radioactive, so it will eventually decay into another element. Also behaves like H in chemistry. Quiz 5 is a Take-Home quiz, handed out Thursday 9 October 2008 and due Tuesday 14 October 2008 Thursday 16 October 2008. (Click here for a copy.) NOTE: for parts (a) and (b), the vertical axis of my sketched graphs should really be Brightness, not Intensity. See the In-Class Notes for Unit 2.
Thursday 10/16: (Projector problems -- hey, the Red Panic Button really works -- operations restored.) News: Our human vision recycles many times a second -- this allows us to watch movies (24 frames per second) and TV (30 frames per second) as if we were watching continuous motions instead of a series of still images. A camera can keep exposing film or digital imaging chip for much longer. So this leads us to a beautiful camera picture of winter constellation Orion, showing color and brightness of its stars. Also, gamma-ray emitting only pulsar -- a remnant of a star after a supernova, collapsed to a neutron star, spinning three times a second. And an update on the Hubble Space Telescope -- they've gotten data communications back and are expecting to resume observations on Friday. We've been talking about light, now we need to consider light gathering in our telescopes. Telescopes have two main descriptors -- Light Gathering Area (we usually give the diameter D of a telescope, so the area is A = pi D² / 4 .) and Angular Resolution. The human eye has an angular resolution of 1 arcminute = 60 arcseconds. The HST has an angular resolution of 0.05 arcseconds or 1200 times smaller than the human eye. But remember the 3rd Dimension! Similar angular size… one could be a larger star further away. Optical telescopes (visible light) fall mainly into two categories: Refracting (using lenses) and Reflection (using mirrors). The problem with using lenses is that the speed of light is slightly different for each wavelength of light, so that as you go to bigger and bigger pieces of glass, you end up with chromatic aberration -- an error in focus in the different colors. Also refracting telescopes get longer and longer. Using mirrors allows you to "fold" the optical path so that the telescope is shorter. And mirrors reflect all wavelengths of visible light the same -- even if you use lenses as well, the lenses will be smaller pieces of glass deeper in the instrument, and will have less problems. In adaptive optics, you can make large mirrors either out of multiple smaller tiles or on a very thin, flexible base which can be adjusted to remove some of the distortions from looking through the Earth's atmosphere. (There's a reason why the HST is so spectacular with only a 2.4 meter diameter in the vacuum of space, versus the much large 10 meter Earth-bound telescopes.) Radio telescopes typically have a parabolic dish with a receiver held out front -- same as a Dish TV antenna or big satellite dish antenna. (There are reasons why the smaller dishes are more susceptible to giving fuzzy signals with rain falling or snow building up on the dish.) Interferometry -- using multiple telescopes to act like pieces of a much larger telescope. When we talked about parallax, we were using one or more telescopes in more than one place and time to get two different binocular views -- this is different. The Very Large Array, VLA, in Soccoro NM is an excellent example. The Earth has a radius RE = 6378 km and a mass ME = 5.94×1024 kg = 5,940,000,000,000,000,000,000,000 kg = 5.94 septillion kg. The Sun's radius is 108 times RE or RSun = 695,000 km and its mass is MSun = 330,000 ME , 98% of the mass is H and He. MUCH bigger than Earth. The Sun doesn't just sit there and glow. It goes through a variety of different cycles -- like breathing and having a pulse. One of these cycles, which we've talking briefly about is the 11 year Sunspot Cycle. E. Maunder plotted the lattitude on the Sun of sunspots and found that each 11 year cycle produces The Butterfly Pattern. After a period of few or no sunspots, sunspots begin to appear at points north and south of the equator, gradually new sunspot formation moves towards the equator of the Sun down to a new minimum and the cycle repeats. Sometimes there are long droughts in the sunspot record. The Maunder Minimum lasted from 1645 to 1715, corresponding to something in Europe and North America called "The Little Ice Age". What makes it hard to say for certain the Maunder Minimum indicated a lowering of solar output which caused The Little Ice Age, is that there didn't appear to be a similar Little Ice Age in the Southern Hemisphere. Use this weekend to finish reading the assigned readings for Unit 2 and take advantage of the PHYS-1060 Link Salad to look at things, especially the Boston Globe's The Big Picture on The Sun, as it relates to our readings.
Week of October 20-24, 2008.
Tuesday 10/21: News: Comments about the guy who wanted to shut down the LHC -- claiming that you are a nuclear physicist and must be listened to would go a lot better if you actually were a nuclear physicist or if you could actually answer reasonable and straight questions about your qualifications and education. (sigh) In Real News: The Dark Matter search, including a nice link to a discussion of candidates for Dark Matter and why they might not work out. Pictures of the region of space with the gamma-ray pulsar mentioned last week. Status of the breakdown at LHC the other week and continuing issues with the HST. More dramatic pictures from areas of new star formations -- including more discussion on false color pictures and why scientists use them. To understand star classifications, we have to sort stars into similar groups. But all this was done from looking into the sky from Earth. We've seen this problem before. Most stars are too small and dim to see with the naked eye. And brightness may mean bigger or smaller, but it may also mean different distances -- hence our previous discussion on apparent magnitude versus absolute magnitude. Apparent Brightness vs. Stellar Luminosity. Luminosity = Power Output. Power = Energy / Time (Watts). 100 W = 100 J/sec. A 200W light bulb consumes twice the energy per seconds as a 100W light bulb, and is brighter as well. Apparent Brightness = Luminosity / 4 pi d² . Double the distance, the area of the spherical shell of expanding light is 4 times as big, so the apparent brightness is ¼th . Since the Sun is the star we can observe the best, we often state numbers in terms of how many times a solar quantity. Luminosities of the stars seems to range from 10-4 Lsun to 106 Lsun , or about 0.0001 of the Sun's Luminosity to 1,000,000 times the Sun's Luminosity. The Main Sequence stars O B A F G K M and the spectral types described in Table 11.1 p. 306. Note: You don't have to memorize the table, but do remember the order O B A F G K M, that our Sun is spectral class G, that stars towards M are smaller and cooler, and stars towards O are hotter and bluer. What does Main Sequence mean? Plotting luminosity versus color, one finds that most stars follow a diagonal pattern which is called the Main Sequence. However, there are several other patterns which show up on the Hertzsprung-Russell diagram -- including Sub-Giants, Giants, Bright Giants and Supergiants which are bright and cool, and white dwarfs which are small and hot (more or less). We will see how this all factors into the life of stars and stellar evolution. Why the strange order of letters, instead of something sensible like A B C D E F G or 1 2 3 4 5 6 7? Because the letters correspond to names assigned during the time that similar stars were assigned to categories. The actual ordering by color, temperature, luminosity, size, mass, etc. came later. Quiz 6 In-Class. Note from the Syllabus: "quizzes may be used for the purposes of attendance."
Announcements! Dr. Timothy Gay, University of Nebraska, is scheduled to give a public lecture, Wednesday, October 22 entitled, "Football Physics," at 7:00 in 1104 Rood Hall.
Thursday 10/23: Moving Exam 2 to Thursday 30 October 2008. News, etc.: Really cool view of the sky in the Rolling Sky Survey. And a friendly reminder -- the largest rock in the Solar System is so large that gravity has crushed it nearly spherical, it actually holds onto a thin layer of gas... and we call it "Home". Things We Can Learn From The H-R Diagram: Main Sequence Distribution and Those bands NOT Main Sequence. Annotated H-R diagram (note that Dr.Phil's writing on the H-R Diagram in class is very sketchy, but makes the point.) The H-R Diagram plots Luminosity vs. Temperature (Color) But we can also see patterns in: · Size (Solar radii) · Mass (Solar masses) · Lifetimes (Millions or Billions of Year). The Most Luminous Stars in the Main Sequence are also the largest and have the most mass, but also the shortest lifetime. Their mass means more gravity to compress them which means higher temperatures which means ultimately they burn their fuel faster. All of the properties we see on the H-R Diagram can be boiled down to: MASS.
Reading Assigments -- sections in Chapter 10-11 for next week.
Week of October 27-31, 2008.
Tuesday 10/28: News & Notes today include some more pictures from stellar nurseries. How big can a star get? One star thought to be overly large, or what Dr. Phil calls "deviant", at about 200 Solar masses, turns out from the Hubble to be two or three still large stars of a more reasonable 100 Solar masses. More with our Annotated H-R diagram. Our Sun: Spectral Class G2, Luminosity Class V. (G2 V) All the stars along the Main Sequence of the H-R diagram are LC V. Upper left of the Main Sequence, we have hot, large, large luminosity, short lifespan, massive stars. Lower right of the Main Sequence, we have cool, small, low luminosity, long lifespan, low mass stars. Off the Main Sequence diagonal, we get large stars which are very luminous by virtue of their large surface area. Giants: Aldebaran K5 III, 350 Lsun, 30 Rsun (not nearly as large as even the orbit of Mercury). Supergiants: Betelgeuse M2 I, 38,000 Lsun , 500 Rsun (or past the orbit of Mars – Mercury, Venus, Earth and Mars would all be inside this star). Since these giants and supergiants are NOT hot, but very luminous, their brightness comes from SIZE, large surface area. These are old stars, which used to be on the Main Sequence, but have used up their hydrogen fuel. "Mid-life crisis?" There are also really, really big stars not on the Main Sequence, beyond even LC Ia/Ib – Luminosity Class 0? Very few supergiants of any description -- "deviant" stars? On the other hand, White Dwarfs are essentially the exposed cores of stars. When the Giants, etc., burn up their non-hydrogen fuel, they cannot sustain their size and collapse. The collapse fuels a burst of activity -- what's left afterwards may be a white dwarf. More massive stars may collapse down to a neutron star or a black hole. Falling off the edge of the Main Sequence at the lower right of the H-R diagram are lower mass, very low luminosity objects such as brown dwarfs, which might be described as a failed star. Jupiter, for example, doesn't have enough mass to have enough gravity or pressure to ignite its hydrogen. Star Clusters can be Open or "Closed" (Globular Clusters). Star clusters are Localized. Unlike the stars in any random patch of sky, or in a constellation or asterism, the stars in a cluster are all about the same distance from Earth and all about the same age. Open clusters form in the flat plane of the galaxy, where the dust and gasses are. Globular clusters are in the "halo" or sphere around the galaxy – and are very old. Because they are of similar ages, they were once stellar nurseries, where concentrations of gas and dust can condense and form new stars, such as we've seen in some of the Link Salad pictures.
Thursday 10/30: Exam 2. Um, guys? Guys? What's up with the large number of people who up and left at the end of the exam -- before class was over? (sigh) We have new pictures from the Hubble Space Telescope! There are Messier objects and NGC objects -- now we look at Halton Arp's Arp catalog of "funny looking galaxies". Why would one want a catalog of funny looking objects? Well... different means you might learn something new to explain what you're seeing. (grin) And a discussion of the "super sekrit" new button to click on from the PHYS-1060 class web page. See? You guys really did miss something important.
Reading Assignments -- continue in Chapter 12 for next week.
Week of November 3-7, 2008.
Tuesday 11/4: Election Day. News: Link to video about Halloween 2003 coronal mass ejection. NASA gearing up to start testing hardware for the Ares rocket -- Space Shuttle scheduled to end service in 2010. Open clusters in the flat plane of the galaxy, where the dust and gasses are. Up to a few thousand stars, loosely held together by gravity. Globular clusters are in the "halo" or sphere around the galaxy – and are very old. Up to a hundred thousand stars, tightly bound by gravity. No dust or gas. Low metal stars.
Thursday 11/6: News: Indian satellite heading to Moon, using slower but more fuel efficient method of gradually increasing elliptical orbits to reach Moon. Most detailed picture of Jupiter taken from Earth using adaptive optics. More on Open Clusters. H-R diagram of open clusters shows only part of the structure. Seems to end on the left side. Not so many large O and B star masses available. The Main Sequence Turn-Off… occurs because the stars in a cluster are roughly of the same age and the high mass stars have shorter lifetimes. So as the star cluster ages, any high mass stars will end their hydrogen burning life and leave the Main Sequence. Stellar Lives: Cloud – Protostar – collapsed down to a spinning object, but not enough yet for thermonuclear ignition in the core. When the core reaches 10,000,000K – hydrogen fusion gets efficient enough for the star to ignite. Stabilization takes time: O star, maybe 1,000,000 years. G2 star, maybe 30,000,000 years Perhaps not so strange when you consider that for our G2 star, it takes several million years for light to get out to the surface from the core. Main Sequence high end, about 150 solar masses (but this number is under debate) low end for mass, 0.08 solar masses or about 80 Jupiters. Quiz 7 (printed out as Quiz 6 for the hardcopies distributed at lecture) is a Take-Home assignment on drawing an H-R diagram. Handed out Thursday 6 November 2008 and due Thursday 13 November 2008. (Click here for a copy, Click here for the Link Salad page to get to the links mentioned in the assignment.) Also pages 1-2 of Topic 1 assignment announced last Thursday 30 October 2008. (Click here for a copy.)
Week of November 10-14, 2008.
Tuesday 11/11: Veteran's Day (not a WMU holiday). News & Notes includes: A terrestrial based telescope Deep Field view. Tarantula and Supernova 1987a. Not surprising that a huge nebula full of large mass (50-60 solar masses) bright stars would include a nearby recent supernova. The Sun's Life: Condensing gas cloud, protostar, Main Sequence star (current), warming and expanding slightly, red giant star, planetary nebula, white dwarf. Hydrogen ignition at 10,000,000 K. Helium ignition at 100,000,000 K. This requires 0.5 solar masses and up (requires mass, pressure, gravity to reach that temp!) When burning helium at the core, the addition heat and pressure in the hydrogen shell surrounding the core permits additional hydrogen burning there, as wll. For low mass red dwarfs, they never reach helium ignition, and so never burn helium or go thorugh this second hydrogen burning phase, which accounts for their longevity. The Sun's Life on the H-R Diagram. What is so surprising about stars is the link between these large objects and quantum mechanics – the study of the very smallest of things inside the atom. Discussion of electron degeneracies (see text).
AN IMPORTANT NOTE: The current Quiz 7 (mismarked as Quiz 6 in some handouts) is about drawing an H-R diagram. The scale of absolute magnitudes SHOULD go from +20 at the bottom to -5 at the top, because we want the most luminous stars at the top. (The scale says +5 to -20, which makes no sense. I really wish someone who had noticed this had sent me an e-mail alerting me to the error!) A corrected handout can be downloaded here: (Click here for a copy, Click here for the Link Salad page to get to the links mentioned in the assignment.) QUIZ 7 Now Due Tuesday 18 November 2008.
Thursday 11/13: Notes on observational astronomy -- if A passes in from of B, it's a "transit". If A blocks out B, it's an "occultation". Earlier we saw links to a transit of Venus across the Sun, now we have the Moon's occultation of the Pleiades. A bubble in space -- planetary nebula or ejection from a Wolf-Rayet star? Extending the range of our star classifications: The real universe is messy, not as simple as we try to describe it here in class. There are variations in the mass and temperature and nature of stars near each other along the main-sequence of the H-R diagram. There is tremendous variety in star classifications, because each star has its own composition and age. A young G star is different than an older G star. Some stars are Variable stars. Giant stars build up carbon and other elements. Wolf-Rayet stars (W or WR) are Helium rich… or are they late stage supergiants which have blown away their hydrogen shell, exposing their helium cores? Brown dwarfs (spectral type L 1300-2000 K, spectral type T 700-1300K, spectral type Y < 700K ?). Your current Quiz 7 assignment shows some "messiness" in the real world classifications of some of the stars. The Iron Minimum: As you fuse together the nuclei, Hydrogen to for Helium, Heliums to force Carbon, etc., some of the mass is converted to energy through the Einstein relation , E = mc². Some nuclei are much more stable than others. However, in general the fusion pathways are exothermic (release energy) only up to Iron-56. Afterwards, they are endothermic (takes energy) for fusion. Fission, on the other hand, can generate energy by splitting large nuclei, such as Uranium, into smaller pieces. This is why the elements higher that Iron are formed only in the dying stages of stars about to go supernova, where the stellar collapse provides the energy to force the creation of nuclei beyond Iron. (Note: This graph is actually one of "Binding Energy per nucleon", which is an upside-down version of the "Mass per nucleon" graph we want -- the Einstein relation relates mass and energy -- so I flipped it when I couldn't find one that I liked online.) Cosmic Abundance of the elements: Despite the billions of years of star formation and fusion in the cores of all those stars, the universe is still primarily made up of hydrogen. Helium is number two, about one for every ten hydrogen, or about 10%. Nothing else rises above even the 0.1% level!
Reading Assignments -- finish Unit 3 readings.
Week of November 17-21, 2008.
Tuesday 11/18: In Link Salad, what's an F-star doing in this glowing cloud of gas? Answer: Nothing! Turns out the star is about 1000 LY away and the gas cloud is 3-6 times further. So remember that third dimension. News: First images of planets around other stars. Still can't see anything Earthlike, but this is big news. Reminder that you can use your links to go to Prof. Kirk Korista's PHYS-1060 and look up things like his MS Stars Overview. For stars of M > 8 Solar masses, eventually reach multiple-shell burning stage before stellar collapse: H, He, C, Ne, O, Si with an Fe core. Why the iron (Fe) core? Because we've reached the Iron Minimum. Mass to Energy Conversion -- The Einstein Relation: E = mc². If core T exceeds 10,000,000 K (107 K): then 4 Hydrogen nuclei fuse into 1 Helium nucleus + energy (gamma-rays) + 2 neutrinos at a rate sufficient to balance off the loss of energy in the form of light at the star's surface (i.e., it's luminosity). In our Sun, the central temperature is at present about 15.7 million K, and 613.8 million metric tons of H are fused into 609.5 million metric tons of He each second. By the way, what happens to the other 4.3 million tons of matter processed per second? Why the missing mass is converted to energy via E = mc². The Pressure-Gravity Balance in larger stars: Higher core temperatures requires larger size and more mass, but conversely requires lower density (mass-to-volume ratio). If all Main Sequence stars had the same density, then the radius would go as R ~ M1/3. But it is more like R ~ M0.6. And since the Luminosity goes as L* ~ R2 T4surface , the larger, hotter stars are also more luminous. To be more luminous, requires more fusion at the core, burning through the hydrogen fuel at a much faster rate, which is why the large O, B and A main-sequence stars don't live as long. Figure 12.22 in the text looks at the lifetime of two stars. A Protostar (25 Msun) becomes a Blue Main-Sequence star burning hydrogen through the CNO cycle, then expands to Red Supergiant Helium-burning. The Supergiant core expands, the hydrogen-burning shell shrinks and it becomes a Multiple-Burning Supergiant before it undergoes a Supernova explosion leaving behind a Neutron Star or Black Hole remnant. OR start with a Protostar (1 Msun) becomes aYellow Main-Sequence star burning hydrogen through a proton-proton chain, then becomes a Red Giant with hydrogen burning around inert helium core. Then a Helium-burning star with Double-shell burning and the formation of an inert carbon core. A Planetary Nebula is blown off leaving behind a White Dwarf.
Thursday 11/20: News: Observation of a bow shock wave where Betelgeuse's solar wind meets the interstellar medium. Betelgeuse is a red supergiant about 600 LY away, and like all stars is moving. But now we can visually detect which way it is moving from the bow wave. Recall a earlier discussion where the Voyager 2 space probe is meeting the heliopause -- where our Sun's solar wind meets the interstellar wind. Fun with Fusion: We identify isotopes and elements by their numbers Z, N and A. Z = # of protons (and defines which element), N = # of neutrons and A = Z+N = # of nucleons (neutrons & protons). The standard is to assign the Carbon-12 nucleus (Z = 6, N = 6, A = 12) a mass of 12.000000 in atomic mass units (u or amu). Protons and neutrons have values slightly larger than 1.000000 amu. If we assembled a Carbon-12 nucleus from 6 protons + 6 neutrons, there would be a mass difference of 12.098940 amu - 12.000000 amu. This mass difference would be converted to mass using E = mc². Quiz 8 (click here for a copy), asks you to find the mass differences of fusing two Hydrogen-1 nuclei into a Hydrogen-2 (deuterium) nucleus, two Hydrogen-2 nuclei into a Helium-4 nucleus, and three Helium-4 nuclei into a Carbon-12 nucleus. Note we won't get the same mass difference as above, because we are starting from different pieces. Nova and Supernova A Nova is a potentially recurring explosion in a star, typically caused when hydrogen from a companion star is pulled into the strong gravity of a white dwarf and ignites. Supernovas are massive explosions. Two versions: (1) when a large mass supergiant reaches the iron minimum and is unable to continue multiple shell burning in the usual way or (2) when hydrogen from a companion star falls into a white dwarf and sufficiently raises the temperature for the inert carbon core of the white dwarf to suddenly begin fusion. The end stages of large main sequence stars: Neutron Star -- Degenerate matter remnant from a supernova explosion of a supergiant star. The gravitational force is sufficiently large to crush the neutrons, protons and electrons of the atoms into a large block of neutrons ("neutronium"). Black Hole -- Supernova remnant with enough gravity to prevent light from escaping. Hence, it "looks black", like a "hole in space." Apologies for not getting these two documents printed and copied for class today:
Week of November 24-28, 2008.
Tuesday 11/25: Exam 3. You should, of course, be checking out the Link Salad page. But there's a better reason today, as there are some spectacular images. Including video of a meteorite coming down in Canada from a police dashboard camera, which actually drew gasps from those who bothered to stay after the exam. Increasingly we are catching things on still and video cameras that we normally miss. Unit 4. The Milky Way Galaxy -- M109 is a Barred Spiral which resembles what our galaxy looks like. The Milky Way has two Main Spiral Arms with what looks like a thick bar across the center. As we said long ago, there some 100 billion stars in our galaxy. It is about 100,000 LY across the main disk. This main disk is flattened and only about 1000 LY thick. Our Sun is located about 28,000 LY from the galactic center. Most of the stars in the galaxy orbit the center in the main disk with little vertical movement. The galactic center is the thickened bulge in center, located in Sagittarius. The region is so dense with stars and block partially by gas clouds that we cannot see all the way through -- indeed there is an observation shadow, parts of the galaxy and the universe beyond that we can never see. At the heart of the galactic center is an enormous black hole. A spherical halo surrounds the galaxy -- this is where globular clusters live -- and material in the halo orbits at angles to the main disk. In addition to the two main spiral arms, there are other incomplete stub arms. Our Sun is located on the Orion stub arm. We've only TWO MORE CLASSES. It is very important you do the Unit 4 readings.
Wednesday 11/26: WMU Closes for Thanksgiving Holiday at Noon. Classes resume as usual on Monday 1 December 2008.
Thursday 11/27: THANKSGIVING -- No Classes --
READING ASSIGNMENTS
Unit 1 Introduction and Tools of Astronomy Reading Assignment:  
Become familiar with the existence of Appendices A (a list of 
physical and astronomical constants) and B (a summary of many 
of the equations used in text). If you think your math skills 
and metric units knowledge might be rusty, then definitely read 
Appendix C (math and units review - especially C.5 Finding a 
Ratio). 
Chapter 1 (all - it introduces the key concepts of the 
   "astronomical unit" and "light year", describes our place in 
   cosmic space and time, and paints a broad overview of what's 
   to come); 
Chapter 2 (just two small sections: Section 2.1 through 
   "Constellations", and "Angular Sizes and Distances"); the 
   short discussion of "The Magnitude System" on pp. 304-305; 
Chapter 3 (3.1 to middle of p. 56, then section 3.4, and finally 
   section 3.3 with special emphasis on "Kepler's Laws" of 
   planetary motion); 
Chapter 4 (through "Escape Velocity" on pp. 97-98); Figure 6.26 
   on p.170 (and the accompanying text), and 
Chapter 5 (section 5.1 through "The Many Forms of Light", and 
   section 5.3). These readings constitute Unit 1 and you are 
   responsible for this material plus what we cover in lecture.

Unit 2 Light, Matter, and the Observed Properties of Stars 
Reading Assignment: review the subsection "Thermal Energy" 
on pp. 91-92 in Chapter 4, 
Chapter 5 (section 5.1 beginning with "What is Matter?", 
and section 5.2; pp.122-123 provide a nice summary of how 
we interpret light spectra), 
page 142 ("The Sun" in Chapter 6), 
Chapter 10 (in 10.1: "What's the Sun's structure" up to and 
including "The Sun's Atmosphere" on pp. 281-282, and 
section 10.3: "The Sun-Earth Connection" up to and including 
"The Sunspot Cycle" on pp. 293-294), and 
Chapter 11 (sections 11.1 and 11.2 only). These readings 
constitute Unit 2 and you are responsible for this material 
plus what we cover in lecture.



---